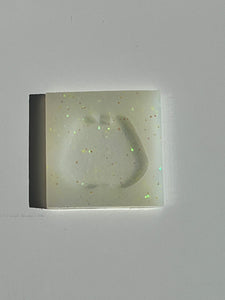 Handmade- Lungs Badge Reel
Cavity measures 1.75 inches across by 1.5 inches tall.
Handmade molds are made to order. I will use light colors so that the molds are UV friendly. UV works best when poured in layers and cured between each layer.
Please do not use heat such as lighters, blow-dryers, torches, heat guns, or fast set epoxies.
I do not sell molds as food grade safe and what you choose to do with the molds is your choice. 
Processing times may vary depending on order volume. I strive to get them made as quicky as possible. Please allow 3-5 business days. I typically am faster but sometimes life has other plans. Due to the handmade nature of these molds there may be small imperfections. I strive to provide high quality items. All sales are final. I do not accept returns, but please contact me if there are any issues that we need to look at. 
Storing molds: PLEASE do not rest mold on one another. Silicone may fuse together and cause damage to your molds. 
Care for your molds: Refrain from touching the inside cavity of the molds. The oils on your hands will leave fingerprints and these marks will transfer into your final piece. Use of sharp objects, metal sticks, stir sticks, toothpicks, popsicle sticks, may damage your mold. You may puncture or scratch the mold and this will also reflect on your final piece.